"This is a new Holocaust" – Haim Yativ and Dr. Seligmann
We have previously reported how Israel rapidly vaccinated the highest percentage of their population with experimental COVID vaccines after the Israeli government struck a bargain with Pfizer to secure millions of doses of their mRNA COVID vaccines.
Vera Sharav wrote:
It is astonishing that the government of Israel entrusted the health of the people to Pfizer; by entering into a secret contract that enrolled the Israeli population to become research subjects, without their knowledge or consent.
To date, Israel has vaccinated over 53% of their population, twice the percentage of the next closest nation, Britain, with 26.9%.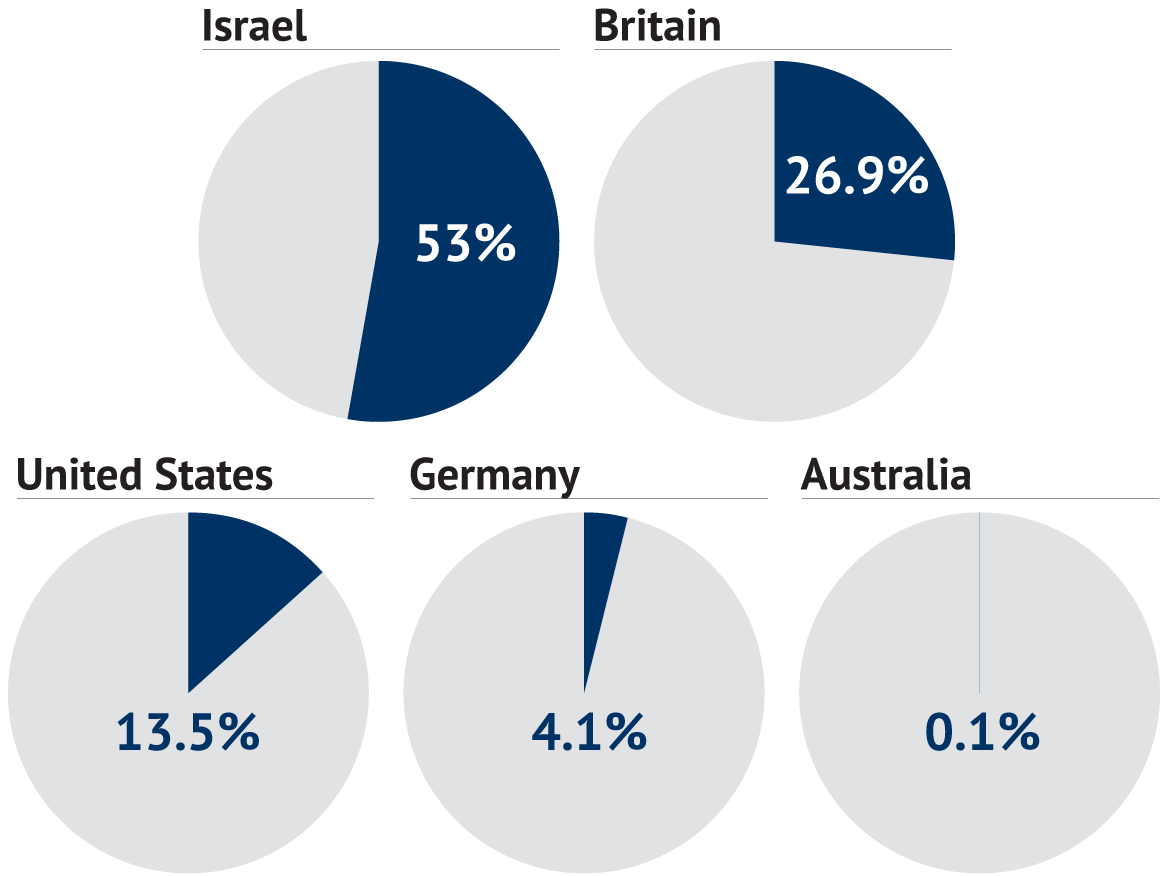 The "official news" published by the corporate media claiming that the vaccines have been effective in reducing rates of COVID in Israel has been scrutinized and examined by Aix-Marseille University Faculty of Medicine Emerging Infectious and Tropical Diseases Unit's Dr. Hervé Seligmann and engineer Haim Yativ, who published their results on a discussion forum website called "Nakim."
The information quickly went viral, and has now been translated into several languages and addressed on various news sites around the world, including Arutz Sheva 7, IsraelNationalNews.com.
A front-page article appeared in the FranceSoir newspaper about findings on the Nakim website regarding what some experts are calling "the high mortality caused by the vaccine."
The paper interviews Aix-Marseille University Faculty of Medicine Emerging Infectious and Tropical Diseases Unit's Dr. Hervé Seligmann and engineer Haim Yativ about their research and data analysis.
They claim that Pfizer's shot causes "mortality hundreds of times greater in young people compared to mortality from coronavirus without the vaccine, and dozens of times more in the elderly, when the documented mortality from coronavirus is in the vicinity of the vaccine dose, thus adding greater mortality from heart attack, stroke, etc."
Dr Hervé Seligmann works at the Emerging Infectious and Tropical Diseases Research Unit, Faculty of Medicine, Aix-Marseille University, Marseille, France. He is of Israeli-Luxembourg nationality. He has a B. Sc. In Biology from the Hebrew University of Jerusalem, and has written over 100 scientific publications.
FranceSoir writes that they follow publications, data analyzes, and feedback from various countries on vaccination, and have therefore taken an interest in the Nakim article, asking to interview them in order to understand their analysis and its limitations.
The authors of the article declare they have no conflicts or interests other than having children in Israel.
After a presentation, the authors discussed their data analysis, the validations carried out, limitations, and above all, their conclusions that they compare with data received via a Health Ministry Freedom of Information Act request.
Their findings are:
There is a mismatch between the data published by the authorities and the reality on the ground.
They have three sources of information, besides the emails and adverse event reports they receive through the Internet. These three sources are Israeli news site Ynet, the Israeli Health Ministry database, and the U.S. federal Vaccine Adverse Event Reporting System (VAERS) database.
In January 2021, there were 3,000 records of vaccine adverse events, including 2,900 for mRNA vaccines.
Compared to other years, mortality is 40 times higher.
On February 11, a Ynet article presented data related to vaccination. The authors of the Nakim article claim to have debunked this analysis based on data published by Ynet itself: "We took the data by looking at mortality during the vaccination period, which spans 5 weeks. By analyzing these data, we arrived at startling figures that attribute significant mortality to the vaccine."
The authors say "vaccinations have caused more deaths than the coronavirus would have caused during the same period."
Haim Yativ and Dr. Seligmann declare that for them, "this is a new Holocaust," in face of Israeli authority pressure to vaccinate citizens.
They also invite specialists to complete their analyses, and intend to pursue legal follow-up to their discovery. The Health Ministry was not available for comment on a FranceSoir query regarding the findings.
The authors also deplored "the fact of not being able to communicate on this vital information" to their fellow citizens.
Mordechai Sones also has his own radio broadcast in Israel, and a few weeks ago he began his broadcast by reading the names of 28 people who have died following the Pfizer experimental COVID mRNA injections.
The list begins with some elderly Rabbis, but also includes young people who reportedly had no existing health problems and died suddenly, including a 25-year-old woman.
After reading these 28 names, Mordechai states:
The list continues, but cannot be brought here in its entirety due to time constraints.
An Israeli man who posted this reading on YouTube stated:
I made this short video with an audio broadcast of Mordechai Sones; so that I could pass on the information that many people here in Israel have been dying after receiving the Pfizer Covid-19 Vaccine.

But none of this information seems to be making it into the mainline media.

I am calling on everyone to pray and seek the Lord to have this evil thing stopped immediately.
I think it is safe to conclude that what is happening in Israel right now with the massive roll out of the experimental Pfizer COVID mRNA vaccine is a test of what the Globalists desire to roll out in other countries around the world, so everyone should be watching carefully what Israel is doing right now to see what is probably coming to the U.S. and other countries around the world.
Israel has now started a "Green Pass" program that requires people to show proof of COVID vaccination to gain entrance to "registered" places of business. This was published yesterday, 2/28/21 in The Jerusalem Post:
The country is expected to further return to routine on Sunday and to facilitate this, the Health Ministry will roll out its "green passport" program.

A green passport will be required to enter certain places and to participate in certain activities. Only people who have been vaccinated or have recovered from coronavirus will be eligible for one.

As part of the program, registered gyms, theaters, hotels, concerts and synagogues will be able to operate starting next week.

"We are giving a huge line to vaccinators," Health Minister Yuli Edelstein said on Thursday during an extensive briefing.

"This is the first step back to an almost normal life."
Welcome to the "new normal." Will the Israelis and other populations around the world comply with this?
Sadly, below are examples of the recent headlines. You can search many of these articles right here on NationalAddictionNews.com.
Doctors Around the World Issue Dire WARNING: DO NOT GET THE COVID VACCINE!!
Death Rates Skyrocket in Israel Following Pfizer Experimental COVID "Vaccines"
28-Year-Old PhD Physical Therapist DEAD 2 Days After Being Injected with COVID Experimental mRNA Vaccine
CDC Reports 1,095 Deaths Following Experimental COVID Vaccines While UK Government Reports 294 Deaths
22 Elderly with Dementia Dead in 1 Week After the Experimental mRNA COVID Injection in the Netherlands
Two Nuns Dead and 28 COVID Positive 2 Days After Experimental COVID mRNA Injections
Formerly Healthy American Serviceman Now has Heart Disease Following the Moderna COVID Shots
Whistleblower Video Footage of Forced COVID Vaccines in German Nursing Homes Goes Public – Attorney: "We're Dealing with Homicide, Maybe Even Murder"
CDC: 929 Dead 15,923 Injured Reported Following Experimental mRNA COVID Injections
Second Pfizer COVID Shot Halted in Spain After 46 Deaths in One Nursing Home Following the First Shot
Former Detroit TV Anchor Karen Hudson-Samuels Suddenly Dies One Day After Being Injected with Experimental mRNA COVID Shot
Whistleblower: 8 of 31 Residents Dead in German Nursing Home After They Were Forcibly Injected with Pfizer Experimental mRNA COVID Shots Against Their Will
28-Year-old Wisconsin Healthcare Worker has Aneurysm – Brain Dead Five Days After Second Experimental Pfizer mRNA COVID Injection
CDC WITHOLDING INFORMATION! 1,170 DEAD Following COVID Injections: Almost Twice as Many Deaths as Found in VAERS
Another Medical Professional in the Prime of Life DEAD Weeks After Receiving the mRNA Experimental Injection as Memphis Mourns Loss of 36-Year-Old Doctor
Wisconsin Resident Doctor has Miscarriage 3 Days After Being Injected with Experimental COVID mRNA Shot
39-Year-Old Medical Doctor and Son of Former Chief Justice of Trinidad Found Dead After COVID Injection in Ireland
TRAGEDY! 9 Dead in Spanish Nursing Home Shortly After First Pfizer Shots but Second Doses Given Anyway – Religious Beliefs in Vaccines Causing Massive Senior Deaths?
Another Jewish Holocaust? Local Talk Radio Reports "Many Dying" in Israel Following Pfizer Experimental mRNA Injections
45-Year-Old Italian Doctor "In the Prime of Life and in Perfect Health" Drops Dead After the Pfizer mRNA COVID Shot: 39-Year-Old Nurse, 42-Year-Old Surgical Technician Also Dead
58-Year-Old Mother and Grandmother of Six in Virginia Dies Within Hours of Receiving Experimental Pfizer mRNA Injection
Israeli Teenager Hospitalized in ICU for "Inflammation of the Heart" Days after Receiving Second Pfizer Vaccine
24 Residents Dead in 3 Weeks as One Third of UK Nursing Home Residents Die After Experimental mRNA COVID Injections
CNA Nursing Home Whistleblower: Seniors Are DYING LIKE FLIES After COVID Injections! SPEAK OUT!!!
Did Larry King Receive an Experimental COVID Shot Just Before His Death?
53 Dead in Gibraltar in 10 Days After Experimental Pfizer mRNA COVID Injections Started
Baseball Legend Hank Aaron Dead After Receiving the Experimental Moderna mRNA COVID Injection
10 Dead with 51 Severe Side-Effects Among Germany's Elderly after Experimental Pfizer COVID Injections
55 Americans Have Died Following mRNA COVID Injections as Norway Death Toll Rises To 29
23 Seniors Have Died in Norway After Receiving the Pfizer Experimental COVID mRNA Injection
Louisiana Woman Convulses Uncontrollably after Being Injected with the Experimental Pfizer COVID Shot – "I can't stand to see my mom this way it makes me want to cry knowing I can't do anything to help her."
24 Dead and 137 Infected at NY Nursing Home After Experimental COVID Injections
"Very Healthy 56-Year-Old" Miami Obstetrician Dies after Being Injected with the Experimental Pfizer COVID Vaccine
"Perfectly Healthy" 41-year-old Pediatric Assistant Dies Suddenly After Injected with Experimental Pfizer COVID Vaccine
Is the Tennessee Nurse Who Passed Out on Live Camera After the COVID Vaccine Still Alive?
32-Year-Old Mexican Doctor Suffers Seizures and is Paralyzed After Receiving the Pfizer Experimental Vaccine
27-Year-Old Canadian Healthcare Worker Faints and Suffers Multiple Seizures After Pfizer Experimental COVID Vaccine